J.J. Witmeyer – Legion of Honor
WW2 veteran J.J. Witmeyer Jr. (1921-2014) was one of 75 recipients of the Legion of Honor medal that was bestowed in Paris on June 5, 2009, the eve of the 65th anniversary of the D-Day landings in Normandy.
A New Orleans native J.J. Witmeyer enlisted in the army the day after Pearl Harbor. He was a tech sergeant in the 79th Infantry Division that landed on Utah Beach in Normandy and went on to liberate La Haye du Puits and Cherbourg.
The Legion of Honor ceremony was held in the cobblestone courtyard of Paris' Museum of the Army, les Invalides, a few hundred feet from the tomb of Napeolon. Attendees included Tom Hanks.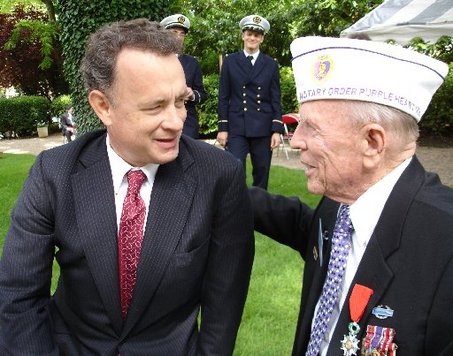 Tom Hanks and J.J. Witmeyer in the gardens of the Invalides in Paris in June 2009
The next day, June 6, J.J. Witmeyer stood with President Obama, Prince Charles, President Sarkozy, Prime Minister Harper and Prime Minister Gordon Brown at the American cemetery at Omaha Beach. Also at the ceremony was Zane Schlemmer, a 82nd Airborne D-Day veteran who landed in Picauville, who was honored that day by President Sarkozy with the Legion of Honor.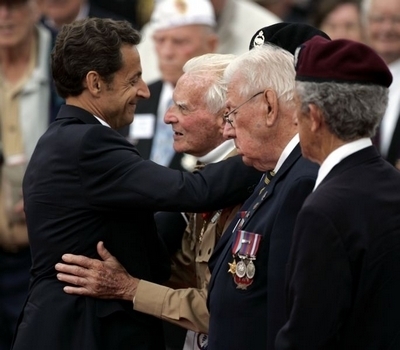 President Sarkozy, J.J. Witmeyer and Zane Schlemmer at the American Cemetery
at Omaha Beach on June 6, 2004
After the ceremony, JJ Witmeyer and his son stayed at our chateau in Picauville near la Fiere Bridge to continue their pilgrimage of the Normandy Battlefield sites. Dorothea de la Houssaye accompanied JJ to the town hall of La Haye du Puits where the Mayor and town dignitaries honored JJ in an emotional reception.  We then convened for a commemoration at the monument dedicated to the 79th Infantry remembering their lethal battle to liberate la Haye du Puits.
Monument for the 79th Infantry Division
at La Haye du Puits, Normandy