Susan Eisenhower – Normandy 2016
On June 5, 2016, Susan Eisenhower, Normandy Institute advisory board member, received her Legion of Honor at La Fière bridge. Susan Eisenhower was then special guest at a Legion of Honor ceremony at chateau de Bernaville in Picauville for five WWII veterans. Attendees included four-star General Nicholson who also received a Legion of Honor that day, General Townsend, Henry Montgomery, grandson of General Montgomery and the Prefet de La Manche, Jacques Witkowski.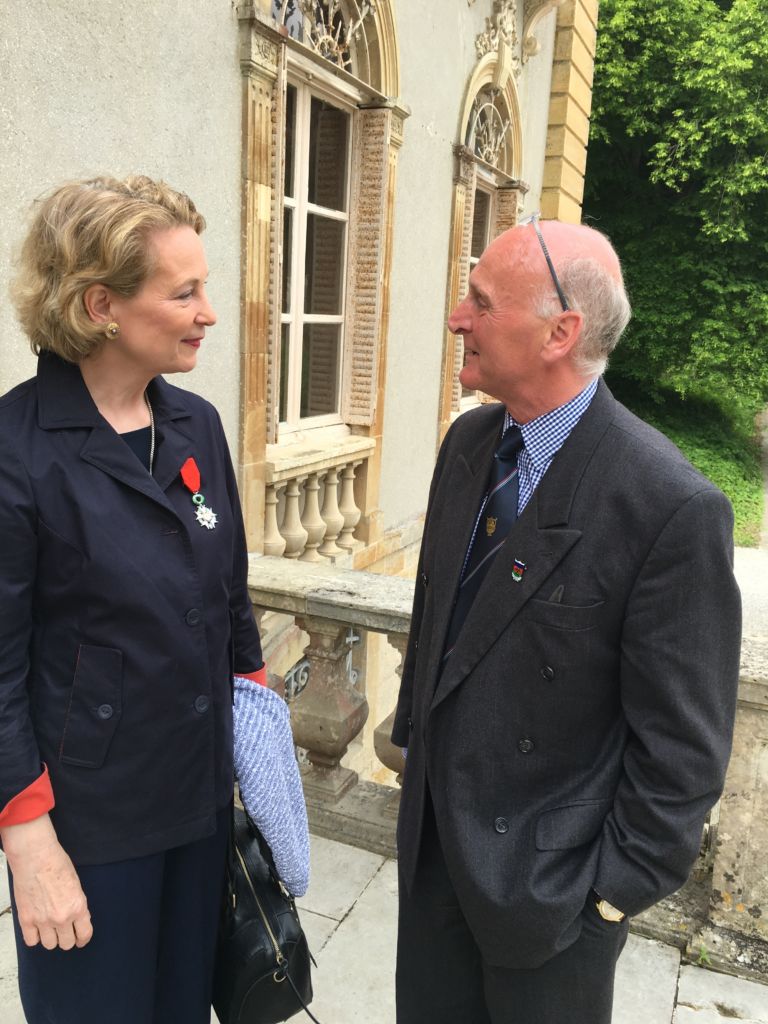 Susan Eisenhower and Henry Montgomery on the steps
of Château de Bernaville
Susan Eisenhower is the grand-daughter of General Dwight Eisenhower, 34th President of the United States, Supreme Allied Commander Europe during WWII. Susan is an author, educator and respected international security affairs expert on Russia and nuclear issues. Susan Eisenhower is currently a member of the American Legion's 100 anniversary honorary committee.
Susan's grandfather's "Legion d'Honneur" medal was gifted by the family to the Legion of Honor Museum in Paris. Tom Hanks, Tom Brokaw and Dr. Nick Mueller insisted on being photographed together in front of Ike's portrait at the Museum at their ceremony.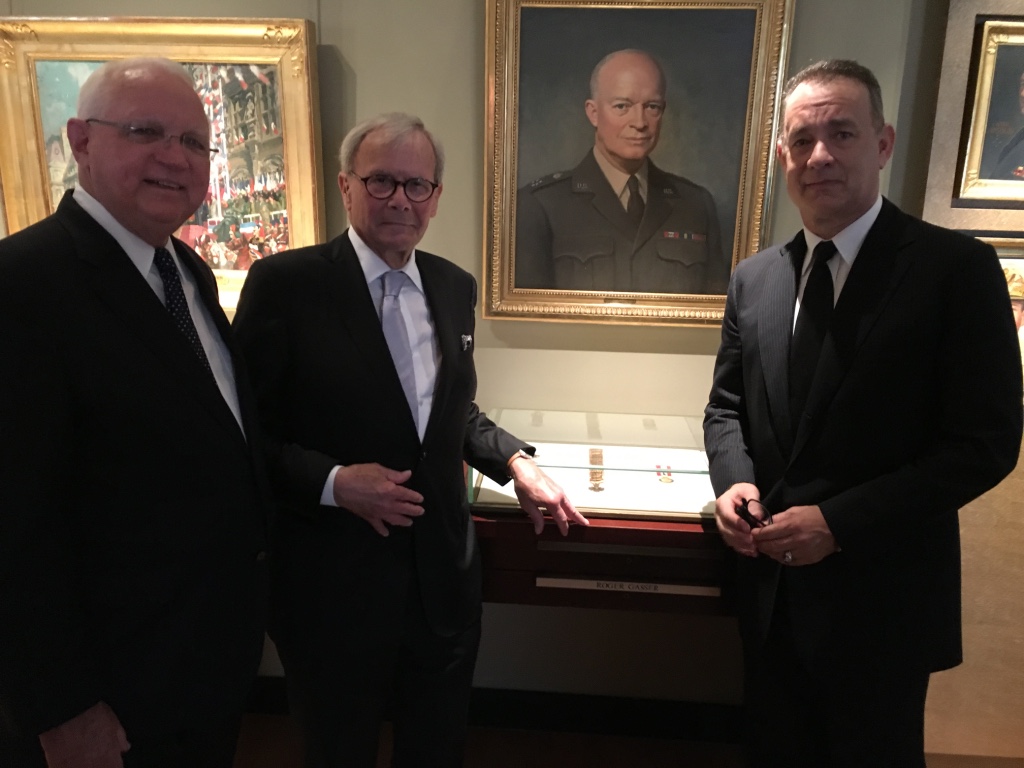 Dr. Nick Mueller, Tom Brokaw and Tom Hanks in front of General
Dwight Eisenhower's Legion d'Honneur medal and portrait at La Grande
Chancellerie in Paris on May 20, 2016 before their own ceremony
Earlier in the year, in March 2016 a group of students on the SALTT program – Strategy and Leadership in Transformational Times- led by Susan Eisenhower and Gettysburg College visited the Normandy Institute for a conference.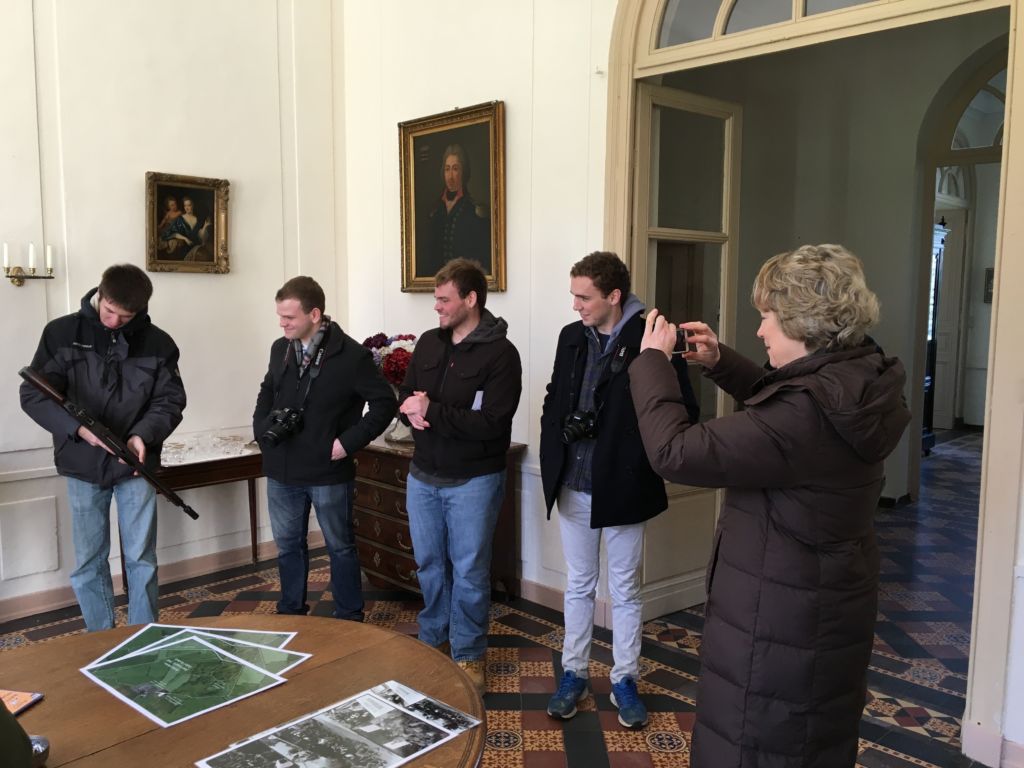 Susan and her students in March 2016 in the marble room at Château de
Bernaville checking out a WWII Thompson machine gun!
Local D-Day specialist Ben Trumble took the group to visit a local monument near Picauville "Lucien's Wall". Ben narrated the story of Lucien, who as a 10-year old boy had witnessed D-Day.
In 1982, Lucien Hasley had built a memorial wall at the side of his house with his own hands. Sculpturing the names of 82nd Airborne troops who had fought in the tiny hamlet of Port Filliolet. There had always been a sad exception to the honor-roll. The name of the American medic who went out of his way to help Lucien's brother and subsequently died during the battle of Port Filliolet in June 1944.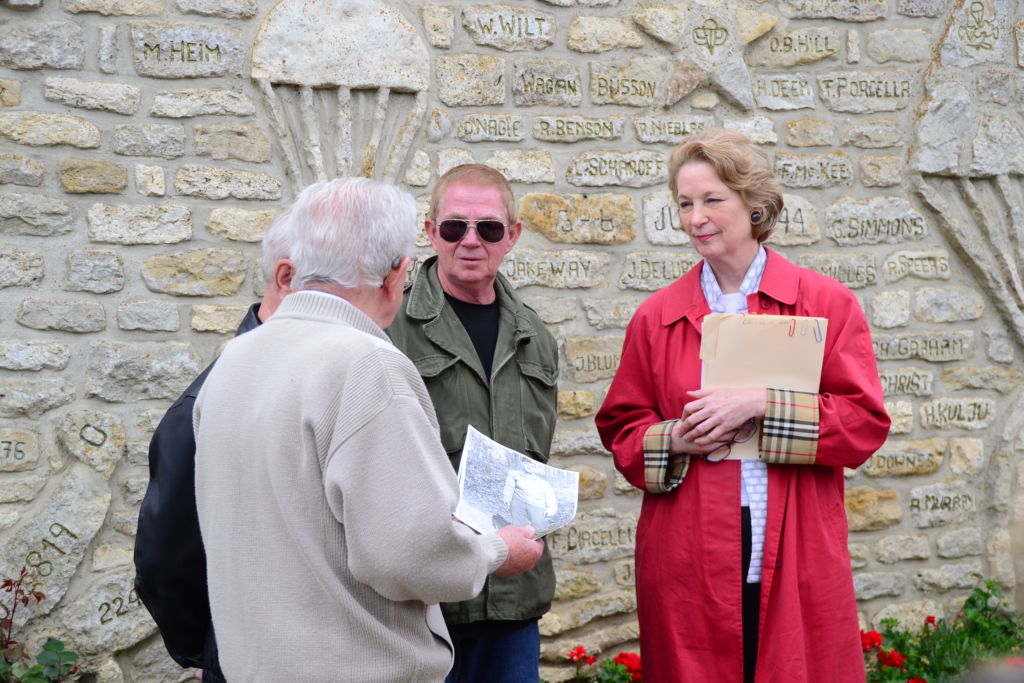 Ben Trumble and Susan in front of the Commemorative Wall
with Lucien and his brother on June 4th, 2016.
After hearing the story of Lucien Hasley, Susan Eisenhower, Col. Fullenkamp, a 30-year veteran of the US Army and author, and their students made it their mission to help Lucien identify the name of the American medic who had saved his brothers life. On the 4th of June 2016, a 72-year circle was finally completed when Susan revealed the name of the veteran to Lucien in a moving speech that was video recorded by the US Army:
The medic was called Frank E. Mackey of the 508 PIR and his grave is at the American Cemetery at Omaha Beach. Susan went to lay flowers on his grave on June the 6th and contemplate his heroic deeds.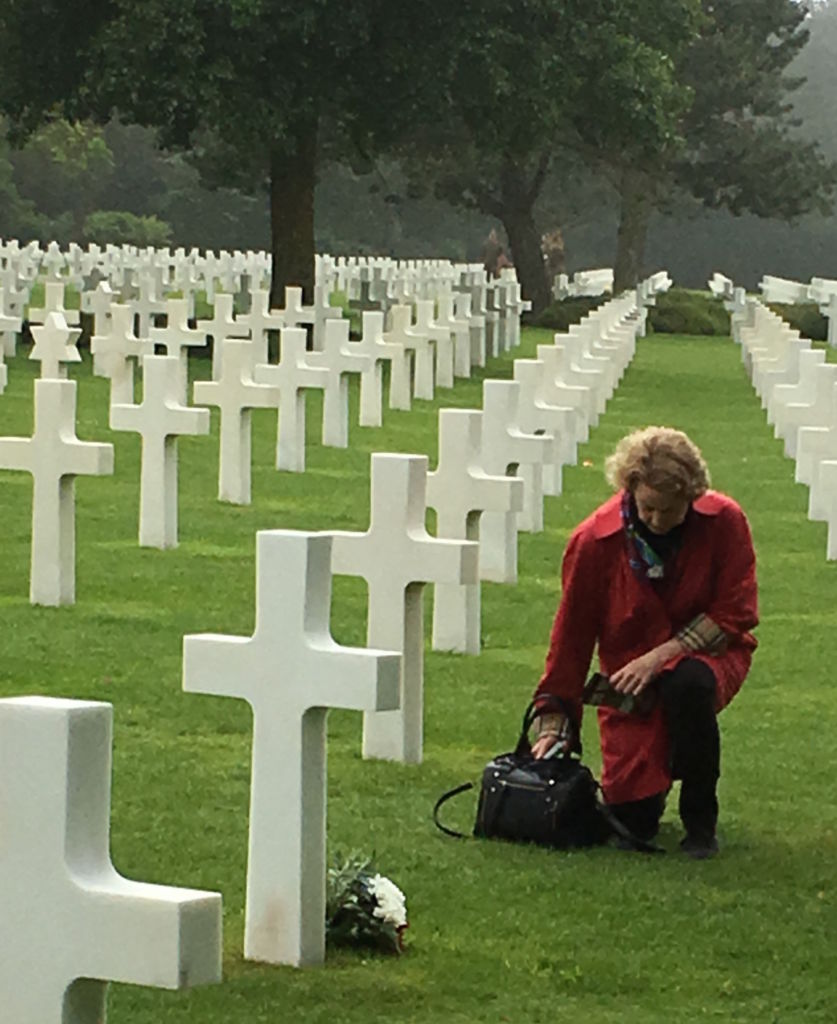 Susan laying flowers at Frank Mackey's grave
at the American Cemetery at Omaha Beach